This article was produced by Merry Law, Mailers Hub's expert consultant on international mail. Merry may be reached at [email protected].
---
The electronic world has been unkind to at least one post, as demonstrated earlier this month.
Ransomware
Royal Mail, the UK's designated postal operator, was hit with a ransomware attack on January 10 or 11, stopping their ability to send all outbound international mail.  Imported mail was subject to "slight delays" and domestic mail within the UK was not affected.  Royal Mail suspended accepting all mail bound for foreign countries.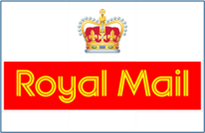 Originally called a "cyber incident," it took a few days before the extent and cause of the attack were disclosed. The ransomware attack is attributed to the LockBit cartel, a Russian-linked group. The exact details are not publicly available; the Royal Mail is cooperating with security authorities and working with internal and other consultants to mitigate the effects of the attack.
On January 18, Royal Mail was able to send a "limited number" of outbound items using a workaround created to overcome the dispatch problems.
As of 7 pm January 19 in the UK, letters not requiring a customs declaration were accepted to foreign addresses.
By Monday, January 23, Royal Mail was able to resume the dispatch of letters and packages to an increasing number of countries.  They continue to request that customers not mail packages to other countries.  It remains unclear when international mail from Royal Mail will return to normal.
As more and more countries require Advance Electronic Data (AED) before accepting mailed packages from other countries, data systems for international mail dispatch have become necessary for the flow of mail internationally.
As we all know, the number of attacks by hackers has been increasing year to year. Postal operators in developed and developing countries, with networks accessed by hundreds of mailers, are particularly vulnerable and must guard against intrusion. The Royal Mail ransomware attack is a warning to us all.
USPS electronic customs forms
Customs forms are required for goods sent to international addresses and for military and diplomatic mail (APO, FPO, and DPO addresses) although APO, FPO, and DPO addresses are domestic mail.  (For military and diplomatic mail, details are regularly updated in the Postal Bulletin.)  Domestic mail to Puerto Rico and other destinations outside the 50 states and DC also require customs forms for goods.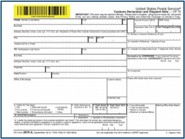 There were an unusual number of returned or rejected items to military and diplomatic addresses because of incomplete or incorrectly completed customs forms in late November and December.
USPS held a webinar on January 6 addressing customs form requirements for military and diplomatic mail.  Although some misunderstandings by USPS staff about the processing of this mail came up during the webinar, the major problem is with the electronic customs forms and the correct completion of all customs forms.
Efforts to get action from USPS have increased recently.  A meeting between mailers and USPS staff has been arranged while mailers are at USPS headquarters for the MTAC meetings at the end of January.
The online USPS customs form continues to be problematic for mailers.  The USPS app returns time-out and other errors frequently enough to frustrate customers.  An attendee to a webinar on international trends submitted the question "Why is it that the USPS online custom form goes down and causes frustration for customers?"  It's a question that deserves an answer.
USPS initiative on hold
The Outbound Commercial Product Initiative (OCPI), previously discussed in issues of Mailers Hub News, has been "paused" by the USPS after more than three years of effort and, presumably, costs. OCPI was the program to send packages from USPS via commercial carriers to selected countries using commercial customs documentation and clearance. As commercial shipments, delivery to post office boxes or over-the-counter delivery at post offices would not be available.
The USPS released the following statement.
"Right now the OCPI program has been put on hold. After reanalyzing the status of current market and foundational tenets of the program, we determined that drastic market changes had significant negative impacts on the program's technical and operational processes. The organization still believes that a commercial solution is needed for USPS to remain competitive in the international arena, particularly as it pertains to the growing eCommerce channel."
This statement suggests we will see further USPS proposals for delivery of packages from the US in those countries with poor delivery service using commercial customs clearance and delivery. While improvements would be welcome, mailers have expressed reservations and concerns about OCPI for some time. A previous initiative using international commercial delivery services was last attempted – and abandoned – by USPS about 20 years ago. An effective and functional international commercial option may take consideration of the flaws of previous plans and greater cooperation between USPS, commercial shippers, and the mailing community.
Download the Mailers Hub Services Brochure
Learn more about the solutions we have for you.
If you're on this page, it's likely because you have challenges to find solutions for or a question to answer. Fortunately, you've come to the right place. Click below to download our 2023 Services brochure to learn just how much we have to offer. Leave your name and email if you'd like us to stay in touch. 
The brochure is a PDF that will open in a new browser window. Download, read, share, and let us know if you have questions.