There are many human qualities that can be seen two ways, depending on whether the observer believes them to be positive or negative.
For example, someone who perseveres is praised by supporters as determined, courageous, and steadfast, but criticized concurrently by skeptics as dogmatic, obstinate, or stubborn. Persons who show self-confidence in the face of challenges are praised as tenacious, bold, and assured, while others may find such behavior to be intransigent, brash, or reckless.
Those terms and more have been used to describe Louis DeJoy's style as Postmaster General.  However, whether a supporter or opponent of DeJoy, all observers have to agree that he can't tolerate criticism, and angrily brushes aside anyone who dares question or disagree.  While making the changes he's undertaken at the agency may require DeJoy's focus and fortitude, those qualities may not serve him well when they morph into myopia and a disregard for caution.
Shooting too fast at the wrong target
That the USPS was in financial trouble when he arrived isn't debatable, nor was the need to take action to avoid an eventual financial collapse. Whether how DeJoy has chosen to tackle the situation is the wisest approach is another matter.
Perhaps advised by senior executives who'd long harbored their own unfulfilled views, DeJoy decided that postal finances had to be turned around – quickly – and that the key was increased revenue from higher postage rates. Commercial mailers, he was persuaded, had for years failed to pay enough to cover the costs for the service they demanded.
However, there were some critical flaws in such a perspective that his inner circle chose to omit. First, Congress had long treated the Postal Service as a captive cash cow and in 2006 had saddled it with an infeasible obligation to fund 75 years' of future retiree health costs in only a decade. That was not a burden recommended or imposed by mailers. Second, DeJoy's predecessors (and his current deputy) had time and again agreed to generous contract terms with the postal labor unions, acting even recently as if the USPS was still enjoying the lucrative 1980s – when mail just "happened." Mailers had no voice or vote in those agreements, either. Finally, decades of ineffective management had allowed the operating networks to become inefficient and expensive. Ratepayers wanted service, true, but were not involved in designing or operating the networks required to provide it.
Most inarguably to his credit is the one action which probably he alone could have made happen: passage of the Postal Reform Act of 2022 which eliminated at least $57 billion in unpaid past and future prefunding obligations.
He's also undertaken a wholesale revision of the Postal Service's transportation, processing, and delivery networks in order to make them more efficient and less costly. Though few debate the need for and value of such an effort, the initial steps are causing a level of concern that the process is being rolled out faster than thoughtful planning and analysis would require. Nonetheless, with the idea now engraved in his thinking that ratepayers had to pay more, DeJoy set out to maximize the pace at which the red ink would be eliminated.
What is becoming clearer, however, is that DeJoy's obsessive demand for semi-annual rate increases is resulting in accelerated loss of mail volume, well ahead of what might be the normal attrition and diversion to electronic media.  Concurrently, actual volume has yet to support his conviction that the package business is the key to the Postal Service's future.
The numbers don't lie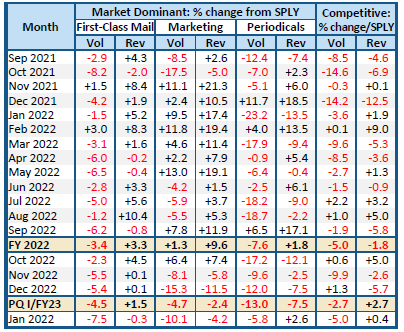 Three price increases have been imposed in less than sixteen months (August 29, 2021, 6.8%; July 10, 2022, 6.5%; and January 22, 2023, 4.2%) with another of about 5.6% planned for July 9, 2023 – a total of 23.1%, or 31.1% for Periodicals and other "underwater" products, in less than two years.
In the 72-weeks from early October 2021 through early February 2023, mail volume has been lower, compared to the same period the previous year, over 69% of the time; in the past year, that number has risen to 75%. The picture for packages is even less encouraging. Based on USPS data, from early April 2020 through early April 2021, package volume grew every week, compared to the same period the previous year. However, for over 82% of the weeks in the following weeks through February 2023, year-over-year package volume has fallen.
Meanwhile, postal leadership has been dismissive of commercial mail producers and their representatives who warn that ratepayers can and will seek alternatives to the mail if the obsession for more revenue continues, as recent months are starting to indicate.
Mail volume loss to electronic media has been ongoing for decades, but transactional mailers are increasingly encouraging customers to "go paperless" to reduce postage costs. Advertising mailers, setting budgets for late 2022 and early 2023 mailings, have reduced volume to offset higher postage prices. After benefitting from government COVID test kit mailings, competitive products are far from showing the volume growth the PMG expects. To commercial mailers – who know the business of mail – these data are signs that constant price increases are threatening USPS volume and revenue; unfortunately, Louis DeJoy is too determined – or obstinate – to notice.
Download the Mailers Hub Services Brochure
Learn more about the solutions we have for you.
If you're on this page, it's likely because you have challenges to find solutions for or a question to answer. Fortunately, you've come to the right place. Click below to download our 2023 Services brochure to learn just how much we have to offer. Leave your name and email if you'd like us to stay in touch. 
The brochure is a PDF that will open in a new browser window. Download, read, share, and let us know if you have questions.